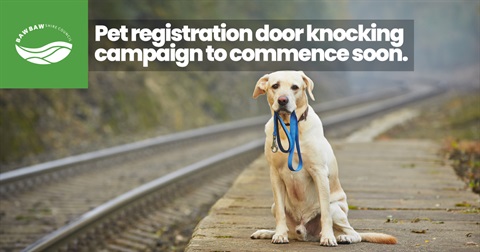 Regi-Check ambassadors will conduct a door knocking campaign on behalf of Baw Baw Shire Council to assist residents with their pet registration needs.  
Commencing Monday 23 May, trained and licenced ambassadors will be traveling throughout the Shire providing advice and information on the importance of registering domestic animals. 
The ambassadors will not be accepting money or organising registrations on the spot, rather they will advise residents of the process of registration via Council's website.  
All cats and dogs over the age of 3 months are required to be registered with Council and must be microchipped as per State Government regulations.  
It is important to ensure pet registration details are up to date with current contact details, and that your pet is always wearing a registration tag so that when an animal is found lost or roaming away from their home Council's Compliance Team can attempt to return them to their owner. 
Residents who have not yet received their animal registration notice are encouraged to contact Council on 5624 2411.